Are you looking for a unique adventure in the city of Incheon? Then look no further than Chinatown—the vibrant and colourful area near Incheon's downtown. From traditional markets to delicious restaurants, this guide will help you make the most out of your visit to Chinatown.
How To Get To Incheon Chinatown
Visiting the Incheon Chinatown is easy and convenient! The neighborhood is located in Incheon's Jung-gu area, close to the subway station Incheon. From Seoul Station, take the subway from Seoul Station (Seoul Subway Line 1), Exit 3 and you'll arrive at the lively Wolmido Culture Street. Make sure your T-Money Card is purchased and topped up before taking the subway.
Alternatively, you can take bus 45 from Incheon Station Exit 1 or opt for a taxi or car ride. Once you reach Incheon Chinatown, the entrance is directly across the street. You can enjoy a fun day trip or even a weekend getaway to explore this vibrant area. Make sure to experience all that it has to offer — from its unique historical monuments, trendy cafes and shops, to its delicious Chinese cuisine and night market — it's an experience unlike any other!
Explore the Jjajangmyeon Museum
The Jjajangmyeon Museum in Incheon Chinatown is a must-visit for anyone looking to dig deeper into Korea's iconic dish. Housed in an old building, the museum pays tribute to the classic cuisine by introducing its history, progress in development, and the influence and value it has had on Korean culture.
Here, you'll also find info on how to make your own jjajangmyeon at home as well as learn about the various Chinese dishes that have been adapted to the Korean palate. Take a guided tour to get a more comprehensive view of this beloved dish and its cultural importance.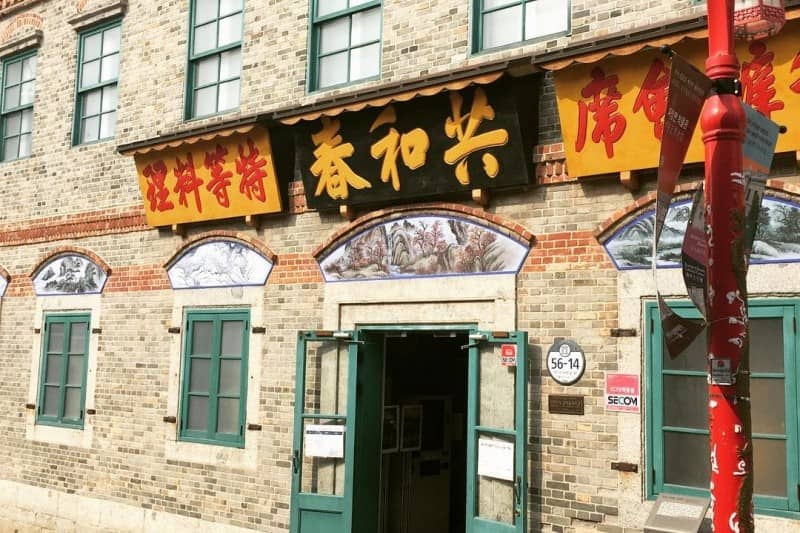 Discover Trendy Cafes
Visitors to Incheon's Chinatown are sure to be delighted by the trendy cafes that are scattered throughout the area. Whether you're looking for a spot to grab a snack or an evening cup of tea, there's something for everyone here. Get your caffeine fix with a cup of freshly brewed coffee or revitalize yourself with a refreshing juice. Enjoy traditional Chinese snacks while taking in the sights and sounds of this unique neighborhood. With its vibrant atmosphere and welcoming locals, you'll be sure to have an enjoyable experience at Incheon's Chinatown cafes.
Admire Unique Historical Monuments
After exploring the Jjajangmyeon Museum and discovering trendy cafes, take some time to admire the unique historical monuments in Incheon Chinatown. One of the most remarkable monuments is Wiseondang, the only Chinese style temple/shrine left in Korea. Built in 1893, Wiseondang has a colorful mural on its yellow exterior walls, and inside the temple there are many intricate works of art to explore. Other landmarks to visit are the huge archway near Incheon Station Exit 1, which proudly displays "Chinatown" on its top, and various other monuments like statues and memorials that tell the story of Incheon Chinatown's past. Visiting these landmarks can help you understand the history and culture of this vibrant area.
Go Shopping
Once you've had your fill of sightseeing, it's time to go shopping! Incheon's Chinatown is home to a variety of shops and stores selling everything from souvenirs and traditional Chinese items to clothing, beauty products, and electronics.
Sinpo International Market is the perfect place to find unique gifts for friends and family. You can also visit the nearby Wolmido Seaside Shopping Street for a more laidback atmosphere where you can browse the stalls of street vendors selling clothing, accessories, and snacks. Don't forget to take a break at one of the many cafes in the area to rest your feet before continuing your shopping spree!
Unwind at a Spa
Incheon is a great place to relax and unwind, with a variety of spas and saunas to choose from. For those looking for a luxurious experience, the biggest jjimjilbang (spa and sauna centre) in Incheon offers a range of treatments, from massage to saunas. After spending the day exploring Chinatown, take some time to pamper yourself with a relaxing spa experience. There are also plenty of smaller spas scattered around the city, offering everything from traditional massages to aromatherapy treatments. Whether you're looking for an indulgent day of relaxation or just some therapeutic time out, Incheon's spas are sure to have something to suit your needs.
Explore the Night Market
Exploring Incheon's Chinatown at night is an experience that should not be missed. The night market is full of interesting attractions, from street food stalls to unique shops. Here, you can sample traditional Chinese delicacies such as jjajangmyeon, a noodle dish made with black bean sauce, or try popular Korean snacks like tteokbokki. As you wander around the night market, you can admire the traditional architecture and take in the vibrant atmosphere. With its wide variety of offerings, the night market is a great way to end a day of exploring Incheon Chinatown.
Try Authentic Chinese Cuisine
Incheon's Chinatown is a great place to try authentic Chinese cuisine. From traditional Sichuan and Cantonese dishes to Korea's iconic dish of Jjajangmyeon, there is something for everyone in the area. The dumpling restaurant is a must-try for anyone looking for delicious snacks, filled with meat, sweet potatoes and red beans. Additionally, there are a variety of other restaurants offering a range of classic dishes that are sure to tantalize your taste buds. Make sure to explore the night market for some unique culinary experiences too. With its vibrant atmosphere and delicious food, Incheon's Chinatown is definitely worth a visit!
Incheon Chinatown is a fascinating destination for visitors looking for a unique experience away from the hustle and bustle of Seoul. From exploring the Jjajangmyeon Museum to admiring the unique historical monuments in the area, there is something for everyone in this vibrant neighborhood. Whether you're looking for an adventure or just want to relax, Incheon Chinatown offers an array of activities that make it an ideal day trip from Seoul. With its diverse range of attractions, delicious cuisine, and bustling night market, it's no wonder why Incheon Chinatown is one of South Korea's most popular destinations.