Venturing beyond our usual exploration of South Korean locales, we set our sights on the bustling city of Manhattan, where the term "Korean restaurant NYC" is one of the biggest search terms. We're on a quest to discover the top ten Korean restaurants in New York City, a metropolis renowned for its diverse and vibrant food scene.
Nestled within the heart of Manhattan is a district affectionately known as Korea Town, or K-town for short. This vibrant neighborhood is a gastronomic paradise for lovers of Korean cuisine, brimming with a myriad of eateries that are sure to tantalize your taste buds. Whether you're a seasoned foodie or a curious traveler, K-town is a must-visit destination on your next trip to the Big Apple.
Korean cuisine has been a staple in New York City since the late 1970s, with the block of 32nd Street between Broadway and Madison Avenue serving as the initial epicenter of this culinary revolution. This area, steeped in history and culture, has been serving up mouthwatering Korean dishes to locals and tourists alike for decades.
However, the Korean food scene in NYC is not just confined to this historic block. In recent years, K-town has expanded its borders, stretching both north and south from its original location. Today, you can find a plethora of fantastic Korean restaurants dotting the streets from 31st to 36th Street. This growth signifies the increasing popularity and appreciation of Korean cuisine in the city, and these establishments are testament to the rich flavors and culinary traditions of Korea.
So, join us as we embark on this culinary journey, exploring the best Korean restaurants that NYC has to offer. From traditional dishes that have stood the test of time to innovative creations that push the boundaries of Korean cuisine, there's something for everyone in this vibrant city.
A History Of Korea Town
A massive influx of Koreans entered the US following the Hart-Cellar Immigration Act's passage in 1965. Census data from 1990 and 2000 show that this immigration is still going on. Between 1990 and 2000, the city's Korean population rose by 16,755.
Many labourers who don't speak English are brought into the city along with this influx of Koreans. As a result, they were able to find employment in small enterprises that did not need them to be fluent in English, like grocery stores, convenience stores, and clothing manufacturers. When the Korean immigrants had saved enough money, they eventually started their own modest businesses in neighbourhoods like Koreatown.
When Korean shop owners started redeveloping West 32nd Street, Koreatown started to take shape. This was in the late 1970s. Why were Korean business entrepreneurs drawn to this region so much?
Koreans, like many immigrants, arrived in the United States with very little money. Up until 1979, the Korean government set a $1,000 cap on each immigrant entering the United States; after that, they raised it to $3,000. This could be the reason why Koreatown began to grow in the late 1970s and early 1980s. Furthermore, Korean immigrants considered this region to be a good location to open a business because of the low rents and strong foot traffic brought about by the Empire State Building's close proximity to neighbourhoods like the Garment District.
Where did recent immigrants from Korea find the funds to launch their own businesses? They depended on their family who had already made a home in the United States. Furthermore, it has been observed that recent Korean immigrants sell off their land in Korea to start over in the United States and raise money for their businesses.
Several restaurants and a bookshop are where Koreatown first began. Koryo Books, the original retailer, offers a wide selection of Korean books in addition to other goods. Kom Tang is the first Korean restaurant on the block (at least, that's what they say). Another eatery that recently debuted in Koreatown is Kang Suh. For further details on these firms, see A New Korea: Businesses of a Blooming Culture.
Although there was never a clear intention to establish a Koreatown, this region grew to be known for its Korean presence as a result of the influx of numerous Korean eateries, shops, and other enterprises. Along 32nd Street, Koreatown's busiest commercial district, also became known as Korea Way in 1995.
Korean Food In NYC
The history of South Korean food in New York City is a tale of cultural exchange and culinary evolution. It began in earnest in the late 1960s and early 1970s, when a wave of Korean immigrants arrived in the city, bringing with them their rich culinary traditions. These immigrants opened small restaurants and grocery stores, primarily in the area that would become known as K-town, serving traditional Korean dishes to a clientele that was initially mostly made up of fellow immigrants.
Over time, as the city's population became more diverse and adventurous in their culinary tastes, Korean cuisine began to gain wider recognition and appreciation. The 1980s and 1990s saw a surge in the popularity of Korean food, with dishes like bibimbap, bulgogi, and kimchi becoming familiar to many New Yorkers. This period also saw the rise of Korean fusion cuisine, as innovative chefs began to blend traditional Korean flavors with elements of Western cooking.
In the 21st century, Korean food in NYC has continued to evolve and flourish. The city has seen a boom in high-end Korean restaurants, offering sophisticated interpretations of traditional dishes. At the same time, Korean street food has also gained popularity, with food trucks and stalls serving up quick, flavorful bites like Korean BBQ and spicy rice cakes. Today, South Korean food is an integral part of NYC's diverse culinary landscape, beloved by locals and tourists alike for its bold flavors and unique dishes.
Best Korean Restaurants In NYC
The best Korean restaurants in NYC are not just found in Koreatown, but let's concentrate on the wonderful areas surrounding 32nd Street, which happens to be one of Manhattan's busiest areas right now.
Many K-town eateries started offering outdoor seating choices during the epidemic, with styles ranging from classic homestyle to inventive and upmarket.
Read on to check out our favourite and arguably the best Korean restaurants in NYC;
Rib No. 7
Rib No. 7, nestled in the heart of New York City, is a culinary gem that offers a unique and delightful Korean BBQ experience. The restaurant's specialty, Oodae galbi, is a standout dish that is not only popular in Korea but is also making waves in the US. This particular delicacy, which comes from the seventh rib of the rack, is chopped and prepared right at your table, offering a dining experience that is as interactive as it is delicious.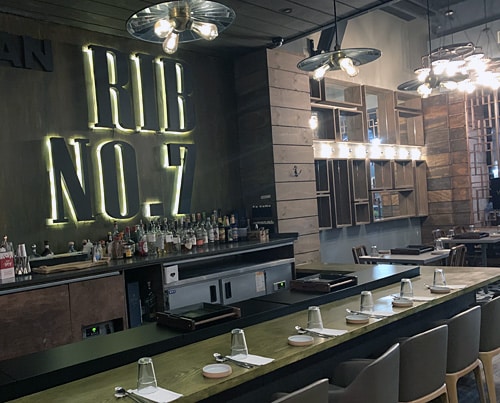 Upon entering the restaurant, one is immediately struck by the welcoming and proficient staff. Their knowledge and passion for the food they serve is evident in their service, making the dining experience all the more enjoyable. The cleanliness of the restaurant, including the toilets, is commendable and adds to the overall pleasant ambiance.
The menu at Rib No. 7 is simple yet diverse, making it easy for both first-time visitors and regulars to navigate. We opted for the house special rib and the bare rib, both of which were accompanied by a variety of sides. The Korean pancake, in particular, was a revelation. It struck the perfect balance between crispiness and tenderness, making it a must-try for anyone visiting the restaurant.
The wait service at Rib No. 7 deserves special mention. They handled our steak and vegetables with utmost care, ensuring that the beef was cooked to our liking. It's been a while since I've had beef that was so flavorful, tender, and cooked exactly to my preference. The attention to detail and the dedication to customer satisfaction at Rib No. 7 is truly commendable.
Every dish at Rib No. 7 is a testament to the restaurant's commitment to delivering delicious food. Whether it's the succulent BBQ short ribs or the mouthwatering pork belly, each plate is a culinary masterpiece that leaves you craving for more.
So, the next time you're looking to impress a visitor with the best of NYC's culinary scene, or simply in the mood for a plate of delectable BBQ, make your way to Rib No. 7 on W 33rd Street. This restaurant is not just about food, it's about a gastronomic journey that is sure to leave a lasting impression.
Address: 32 W 33rd St New York, NY 10001
Get Directions
Kang Ho Dong Baekjeong
Dong Kang Ho is one of the most well-known Korean BBQ franchises in Korea, Beakjeong has also become one of the most prosperous ones in the United States. One of the most well-known comedians in Korea, Kang Ho Dong is well-known for his love of Korean BBQ. The Korean word for butcher is baekjeong. You can tell they are serious about Korean BBQ when you combine the two.
Enjoy seeing the gyeran jjim, vegetables, and corn cheese simmer while the meat cooks in the centre and at the perimeter of the grill. They will reload these side dishes as often as you'd like, and you can have them with the steak.
You must order the Korean School Lunch Box because the setting is hip and young. The dish is presented in a square tin container reminiscent of those used by Korean students up to the 1970s. A server will vigorously shake the tin box at your table while mixing an over-easy egg, rice, vegetables, and Korean hot pepper paste to perfection.
The fact that the corn and the egg are cooked on the side of the grill makes this KBBQ joint stand out. We didn't leave the restaurant smelling like meat as we usually do because the smoke filter also immediately removes the smoke. The meat would be cooked for us by visiting servers. They respond quickly to our extra requests for extra side dishes and drink refills.
Address: 1 E 32nd St New York, NY 10016
Get Directions
The Kunjip Grill
The Kunjip is the place to go if you want to experience a true, original K-town dish that was created in New York City. Considered by many as one of the best Korean restaurants in NYC, It is one of the more established Korean eateries in Manhattan and has gained popularity since it began in 2004. The Kunjip, a popular restaurant known for serving traditional Korean cuisine and drawing lengthy queues outside the door, relocated to a larger location across the street in 2014 and changed its name to "The Kunjip."
On Korean holidays, the entire extended family would congregate at the home of the oldest uncle, known as the "big house" or "kunjip" in Korean. The play on words The Kunjip literally translates to "an even larger mansion" because the word "the" in Korean implies "more."
The Kunjip is renowned for its affordable rates, delectable banchan, and hearty Korean casseroles and hot pots. If you're in the mood to experience Korea's favourite soul food, order the Gamja Jungol (spicy pork bone, potato, and vegetable casserole) and Haemul Jungol (spicy mixed seafood, vegetables, and noodle casserole).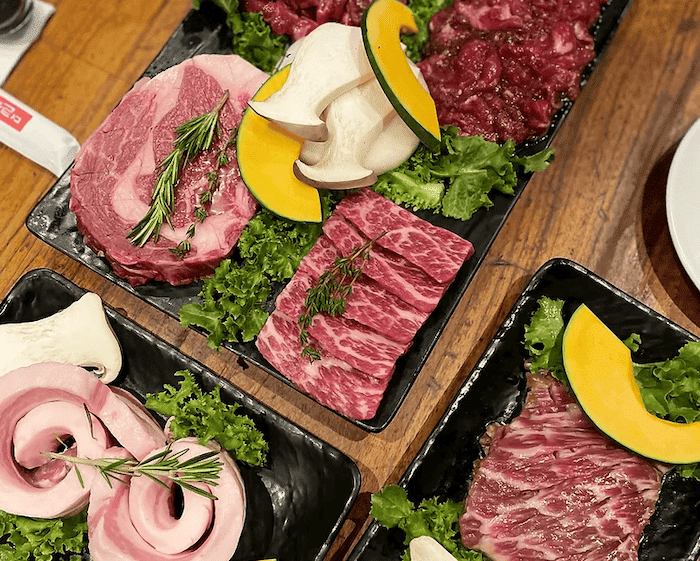 Bring a big appetite to this Koreatown mainstay. The traditional Korean meal continues coming: boiling tofu stew, varieties of bibimbap, and plenty of meats for your do-it-yourself BBQ. Free banchan, tiny plates like steamed eggs and kimchi, are served as soon as you are seated. Once you've eaten your fill, a second complimentary item—a steaming cup of cinnamon tea—arrives with the check.
Address: 32 W 32nd St, New York, NY 10001
Get Directions
Gopchang Story BBQ
Gopchang Story BBQ, a beloved restaurant chain from Korea, made its much-anticipated debut in Manhattan in 2019. The restaurant specializes in gopchang and daechang, the small and large intestines of beef or pork respectively, which are considered delicacies in Korea. The restaurant's commitment to authenticity and quality has made it a standout in New York City's vibrant culinary scene.
The restaurant's signature dish, Combo Gui, is a must-try. This dish features both small and large intestines, served without marinade, allowing the natural flavors of the meat to shine through. The Combo Gui is a testament to the restaurant's dedication to preserving the traditional flavors of Korean cuisine, and it's a dish that I can personally vouch for.
One of the unique aspects of dining at Gopchang Story BBQ is the restaurant's special Snow White Magic Powder. This secret blend of spices is sprinkled over the gopchang and daechang as they cook, enhancing their rich flavors and adding a unique twist to the traditional dish. This innovative approach to Korean BBQ is one of the many reasons why Gopchang Story BBQ has quickly become a favorite among locals and tourists alike.
To round off your meal at Gopchang Story BBQ, I highly recommend the fried rice. Cooked in the same hot stone pot as the Combo Gui, the rice absorbs the savory juices left behind by the intestines, resulting in a dish that is flavorful and satisfying.
The restaurant itself is spread over two floors, and if you're lucky enough to dine in the basement with the sunroof window above your table, it's an experience in itself. The ambiance of the restaurant, combined with the delicious food, makes for a dining experience that is both enjoyable and memorable.
In conclusion, Gopchang Story BBQ offers a unique and authentic Korean dining experience right in the heart of Manhattan. Whether you're a fan of Korean cuisine or looking to try something new, this restaurant is definitely worth a visit.
Address: 312 5th Avenue, New York, NY 10001
Get Directions
Turntable LP Bar & Karaoke
Turntable LP Bar & Karaoke, located in the heart of New York City, is the perfect spot for a late-night hangout with friends. The establishment's unique charm lies in its impressive collection of vintage records and players adorning the walls, and its rustic decor that transports you back in time.
One of the highlights of the menu is their Korean fried chicken. The chicken is cooked to perfection, with a crispy exterior that gives way to a soft, juicy interior. Each bite is a burst of intense flavor, making it a must-try for anyone visiting the restaurant.
The food at Turntable LP Bar & Karaoke is consistently excellent, with a special emphasis on Anju, dishes that are traditionally consumed with alcohol in Korean cuisine. This makes it the perfect place to indulge in chimaek, a popular Korean combo of chicken (chi) and beer (maekju).
But what sets Turntable LP Bar & Karaoke apart from other restaurants is its dual function as a karaoke bar. Here, you can sing your heart out while enjoying delicious food and drinks. The restaurant even features a Beatles-themed karaoke room, complete with albums from the band and a wide selection of music from 1964 to 1970.
While Turntable LP Bar & Karaoke may not serve traditional Korean dishes like galbi, it more than makes up for it with what many consider to be the best Korean fried chicken in Manhattan.
Reserving a karaoke room at Turntable LP Bar & Karaoke is a straightforward process that can be done online through their website. A $100 deposit is required for online reservations, and the clock starts ticking at the time of your reservation, so punctuality is key. Each room is equipped with a call button and menu options on the walls, and there are plenty of coat and purse hooks for your convenience.
Turntable LP Bar & Karaoke offers a unique dining and entertainment experience that is sure to make for a memorable night out in NYC. Whether you're a foodie, a music lover, or just looking for a fun night out, this place has something for everyone.
Address: 34-36 W 32nd St Fl 5 New York, NY 10001
Get Directions
Soju Haus
The kids go to Soju Haus late at night after a night of karaoke because they need food to soak up the Soju. Of course, you go there as well if you want more Soju. After my book launch, I headed there. Here, we had a really wonderful supper.
The cuisine is very complex. It is pleasantly surprising. Soju Haus feels like it came directly from Seoul because the bar food is so beautifully prepared, in contrast to all the restaurants that have come before it that are very Korean American or were similar to the food from the 1980s that those immigrants brought here. It's some seriously unique bar grub.
You must share plates in order to sample more foods and because most dishes and beverages are large in format. One or two dishes are frequently shared by two individuals. Excellent drinks include the black raspberry wine and soju cocktails.
Be sure to ask about each dish's meat content even if it isn't stated in the menu description. The vegetarian options are quite limited, but better than most Korean restaurants, so you can still manage.
On a weekday, you may usually find a table without a reservation, possibly after a brief wait. It is louder because it has a bar-like ambiance (in case you have hearing issues).
You may get these enormous clams in a broth (the clear clam soup with flat noodles). I find it to be such a sophisticated activity to be eating these clams while intoxicated with pals. Since the soup is so pure, you can truly only taste the clams in their natural state, which is extremely unique and Korean, which makes Soju Haus a worth entry into the list of the best Korean restaurants in NYC.
Address: 315 5th Ave Fl 2 New York, NY 10016
Get Directions
Atomix
A thoughtfully chosen cuisine that is both original and experimental in the ideal measure. This restaurant I every high end and on lists of very top restaurants in the world and you can feel it the moment you walk in – it probably ranks as number one for us in this best Korean restaurants in NYC list.
Each dish comes with a post card that details the ingredients and history. I was astounded by the complexity of the layers and combinations in each dish because the presentation was flawless and all the flavours blended so perfectly. The menu was also very well-organized, and each item was carefully chosen to be as delicious as possible.
Beautiful minimalist decor with lots of clean lines and a cosy atmosphere. The restaurant's layout was wonderful, and the lighting and loudness of the music were perfect. Le Labo perfumes were also present in the restrooms, so everything blended seamlessly. I also adored the light fixtures.
Korean cuisine is elevated by the staff at Atomix in a way that hasn't been done before. They honour customs while fusing them with contemporary elements, taking us all on a little excursion. I really appreciate how they continue the discussion on Korean culture in both subtle and obvious ways. Each meal comes with a backstory, origin, and inspiration, and most of the ceramics they utilise are from Korean artists (with information about the artists provided).
Address: 104 E 30th St, New York, NY 10016
Get Directions
Danji
A cosy, chic restaurant serving primarily small meals with a twist: Ingenious dishes like soy-poached sablefish with soft daikon, skillfully fried tofu, and a kimchee-fried-rice "paella" adorned with bacon, chorizo, and the occasional crispy chunk can be found on Hooni Kim's menu, which combines his Korean background with his classical French training.
The pair of sliders made with spicy pork belly and bulgogi meat and served on soft buns that have been butter-grilled may be the restaurant's signature dish or meals. They are continuously served from the kitchen and devoured with the same joyous rush as a bag of White Castles.
Located on West 52nd Street, DANJI is decorated with whitewashed brick, blonde Ikea accents, naked lightbulbs, extension cords, and numerous wooden spoons that have been artistically arranged as though by David Rockwell on a $200 budget. There are thick throngs.
There is a justification. Hooni Kim, who founded this establishment in December as a modernised Korean interpretation of a Japanese izakaya, is an excellent chef. His menu features both traditional and contemporary Korean cuisine, and those who take the time and care to explore it will be rewarded.
Danji works best if you go against the grain and consume as much food as leisurely as possible, creating a tasting menu from the tapas. (Plates range from $6 to $18.)
Be warned, if you take your time ordering from the menu by placing waves of orders, a lunch at Danji is very quick to finish. However, if you stay, the group of people waiting by the bar for tables will give you the evil eye.
Address: 346 W 52nd St New York, NY 10019
Get Directions
Jongro
Jongro is difficult to discover on busy West 32nd Street, continuing the rich history of exceptional K-town establishments. The first U.S. outlet of the South Korean brand is tucked away on the second level of the structure and barely draws attention with a little sign announcing its presence.
But it definitely merits consideration. The large dining room's décor pays homage to ancient Seoul, with white-brick pillars, vintage movie posters, a tin cigarette sign, and even a few tables set beneath a gazebo. It feels like a world apart from the street below. It's quite well-liked by the younger demographic, who rush the establishment during supper and ensure huge lines during busy times.
You will be given a menu by the hosts, and you can order beer while still standing, but not soju, until you are seated. The meat is more reasonably priced than is customary in Koreatown and substantially better than most of the more expensive things, which contributes to the restaurant's appeal.
Every diner also receives a platter with compartments for salt, sesame oil with brown sugar, and the hot bean paste known as ssamjang. Drinks are reasonably priced. Although the selection of banchan is limited, the majority of the items are excellent: tightly folded kimchi, sweet onions, thickly sliced jalapenos for topping your meat, and an egg cooked in a clay pot over its own fire.
Additionally, the restaurant provides inexpensive lunch specials including grilled mackerel, beef bulgogi, soup, kalbi or tofu gobdol, and stone bibimbap if you work nearby and are seeking for a change of pace at lunch.
Address: 22 W 32nd St Fl 2, New York, NY
Get Directions
Cho Dang Gol
Cho Dang Gol, affectionately known as the "Tofu House," is a staple in New York City's Korean culinary scene. With a longstanding reputation for excellence, this restaurant has been serving up delicious, authentic Korean dishes for over a decade.
Upon entering Cho Dang Gol, you're greeted with a small bowl of their renowned housemade tofu, setting the tone for a meal that is as delightful as it is satisfying. The banchan, or side dishes, are a testament to the restaurant's commitment to traditional Korean cuisine, and they perfectly complement the main dishes.
While Cho Dang Gol offers a wide range of Korean classics, such as pork belly, bibimbap, kimchi stew, and fried chicken, it's their tofu dishes that truly set them apart. Whether you're a tofu enthusiast or new to the ingredient, Cho Dang Gol's tofu dishes are a must-try.
With several wooden pillars and moderately kitsch Korean artefacts adorning the walls, the décor has been designed to resemble a rustic rural inn. Anyone who has visited London's Chinatown will be familiar with the brusque but effective service. Affordable and almost always crowded with Korean locals.
Address: 55 W 35th St, New York, NY 10001
Get Directions
If you're looking for some delicious Korean food in New York City, be sure to head to one of the ten best Korean restaurants listed in this blog post. From spicy chicken galbi to fresh seafood selections, these restaurants will satisfy any taste bud. Did we miss any? Let us know.